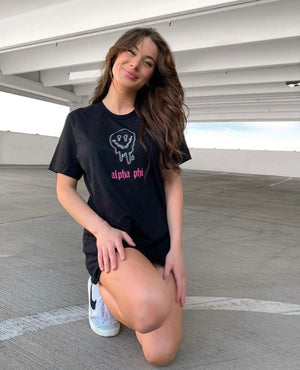 university of arizona greek apparel?
Wildcat Greek Apparel
Hey sorority fans! Campus Tees has fantastic deals on the best UofA apparel for Greeks.
Order custom sorority apparel for your chapter to promote your favorite sorority Greek event at incredibly low prices. Shop from your dorm room, chapter house or get together with one of our awesome UofA campus reps promoting our custom Greek apparel for sororities. Get the Wildcat Greek apparel look you want and for less!
Wearing awesome looking Greek sorority shirts representing your house is attention getting and fun for the whole sorority house to be onboard.
Campus Tees is your go to spot when you have an event and would like your sorority shirts to stand out from the crowd. Our team of designers can create the perfect custom look for your frat or sorority house Greek tees or sweatshirts that will not only look good on you but make a great sales promotion for your next fund-raising efforts!
With Campus Tees, you get only the highest quality materials with crisp image printing that will withstand even the toughest washers and dryers.
Students get great pricing on their UofA Greek house apparel so just tell us the quantities you are looking for and we can have a quote back to you within 24 hours or less!
Getting custom Greek sorority shirts does not have to be expensive to look good, so avoid those that over-charge for basically the same product we can deliver for less, and with your own custom Greek design at no extra charge.
Become a Wildcat Campus Rep.