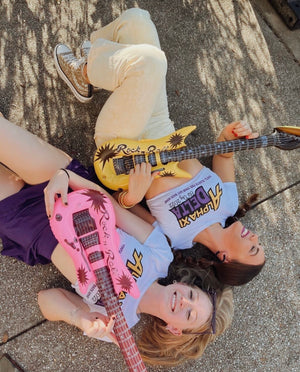 Our Story
Campus Tees was founded on making the best out of your four (or five) years of college. We started out designing apparel for local chapters at Arizona State University, when founder Dan, noticed the communication challenges many sororities face when working with Greek apparel companies. We set out to change that by giving a personalized design experience for each and every client, with clear and easy communication, every step of the way.
Our Mission
Here at Campus Tees, we believe in making college an unforgettable experience. It's the time to meet new friends, try new experiences, and take that trip. It's the time to set new goals, try new subjects, and go for that internship. Our mission is to put you in the best clothes to make memories in, comfortable and trendy pieces that you can wear everywhere you go. From campus to Cabo, philos to formals, we want you to feel bold and confident in your clothes.
Our design principles are based on trends, aesthetics, and comfort. We believe that good designs should not be only seen, but experienced. Whether our pieces inspire a spontaneous vacation, Greek events, style, or just prepare you for a school day, we are creating the future of college apparel.